25th October 2014 – Championship Boxing Event at York Hall in London
This event provides a perfect example of  how various services offered by GO Sports & Entertainment combine to ensure maximum success for our client.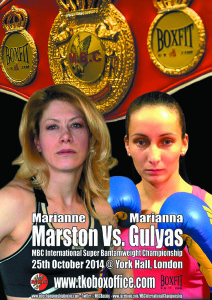 MARKETING & PUBLICITY
The services provided through GO included full pre-event marketing and publicity services, including the creation of posters, programs and other marketing material as well as a full press campaign.
SPECIALIST SERVICES
However it didn't end there, as GO also arranged the professional sanctioning of the event, through the Malta Boxing Commission, as well as the sanctioning of the MBC International Championship  for the headlining bout, we even provided the ticketing service in-house.
SPONSORSHIP SERVICES
On the sponsorship angles not only did we source a sponsor for the Championship bout but we were also involved in providing numerous services with regard to the event sponsor sourced by the promoter – from creative and publicity services, including the creation of a specific website, through to the designs displayed on the ring canvas etc.
Whilst the elements mentioned above were vitally important to make the event a success, it's some of the other elements, undertaken by key members of the GO team, that really made this event standout as something very, very special.
UNIQUE PROMOTIONAL ACTIVITIES
Shortly after this event Californian Multi-Platinum selling Rock Band Trapt, fronted by none other than GO's very own Chris Taylor Brown, were due to begin their UK tour, so some 'outside the box' thinking came into play, the end result being that the video for Trapt's  'Bring It' single from their latest album was edited to include action from headline boxer Marianne Marston's previous Championship bout and then used to promote not just her, but also the event as well as Trapt's UK tour.
BROADCAST SERVICES
GO's involvement didn't end there, as in the build up to the event GO's Claire Forsyth and Elena Capurro, through their Manray Media production company, began the filming of a documentary on Marianne Marston – titled 'Right To Fight' – which included them filming the event itself.
ADDITIONAL UNIQUE PROMOTIONAL ACTIVITIES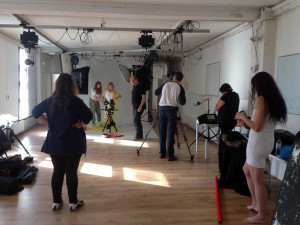 In addition Claire and Elena also filmed another promotional project involving Marianne, on behalf of the Street Child Charity, that was arranged and undertaken by GO's Clare Newton, in the build up to the event.
For this project Marianne was the subject of a stunning large composite image – featuring Marianne as the Goddess of Spring looking down to Earth as she showered  light and petals, to provide sustenance to the children gathered below – that was auctioned at a Charity Gala dinner to raise funds for Street Child Ebola appeal.