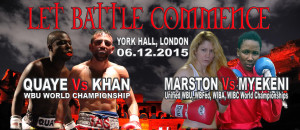 The double Championship headed LET BATTLE COMMENCE takes place on Sunday, 6th December 2015, at the famous York Hall in Bethnal Green, London.
Heading up the card are two World Championship bouts, the first a four World Championship unification bout between British #1 ranked and reigning MBC International Champion Marianne Marston and South African two time World Champion Unathi Myekeni.
The second sees reigning International Masters Champion Tasif Khan challenge for his first World accolade, against the highly rated Ghanaian Isaac Quaye for the WBU World Super Flyweight Championship.
Supporting these two Championship bouts are some of the most exciting talents in the UK today and heading up the support card is reigning World Boxing Federation (WBFed) Intercontinental Super Bantamweight Champion Paul Econmides.
Super Middleweight Manzo Smith, who made his most welcome return to the Fray in October, also features on the card.
Let Battle Commence was already set to reserve a space in the Boxing History books, because of the four World title unification bout between Marianne Marston and Unathi Myekeni, however it s the female boxers that are to ensure a second spot in the History books, as besides Marston-Myekeni there will be four further all female bouts, featuring former Big Brother housemate and multi title challenger Angel McKenzie, International Masters Lightweight Champion Sam Smith, former British Champion Juliette Winter and last but not least former WIBF Champion Jane Johnson makes her most welcome return to the hallowed ring.
Further bouts will be announced shortly.
Tickets, priced £35 (Standard Seated) and £65 (Ringside) can be purchased below.