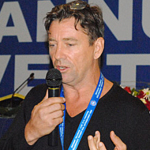 Donny was born in Kitchener Ontario Canada on March 12, 1960, but was raised in Vancouver BC.
Donny's step father was violent and Donny left home and school at 15 years old with a clear focus to "redefine who I am''. Donny started by building a real estate foundation by having purchased 5 homes by the time he was 20 and then used the freedom the cash flow brought in from the rental of the houses to finance his most unlikely boxing career.
Donny started promoting his own fights because it was impossible to convince a promoter that his career was worthy of investment or time. Between Football and hockey injuries as a youth Donny had a number of injuries that made a career in boxing most unlikely. Having experienced poor medical treatment for such injuries Donny dove deep into natural medicine and used many modalities to overcome 6 career ending injuries as diagnosed by medical experts as "incurable".
Donny achieved his two main goals through boxing, becoming World Champion in 1987 and then of becoming independently wealthy through his record setting match against one of the all-time-great box office personalities and all-time-great boxers Sugar Ray Leonard. Leonard earned more money [over $11,000,000.00] in his fight against Donny than in any other fight of his career and Donny earned 400% more than anyone pervious to him in the history of the Lt Heavyweight division [$5,500,000.00]. Donny and Ray set a precedent previously unheard of when they jointly co-promoted their own fight sharing in 100% of the revenue from the live gate [record payment of $8,000,000.00 for the gate], sponsorships and record setting [at the time] and PPV sales for the live telecast. Donny has done everything in this sport from carrying buckets for others to co-promoting the record breaking Leonard-Lalonde Event.
In his post WBC Lt Heavyweight Championship TV interview Donny shocked the sports world by disclosing the violent past speaking to the children hiding under beds, or in closets, encouraging them that like him, they can have a great life after they get out of their current situation. From this, and the forming of two Child Abuse Prevention Foundations, Donny was named the 1987 US Spokesman for the Prevention of Child Abuse awareness campaign on Capitol Hill. These efforts were widely covered by People Magazine and Sports Illustrated as well as many mainstream publications, all of which increased his name recognition and allowed him to cross over from just a sports base to a mainstream worldwide platform for him to increase the reach he has for charitable causes.
Donny retired, unretired, retired and unretired for 15 more years (as most boxers do) while he built a real estate development business in Canada from 1990-2000 then in Costa Rica from 2000-present.
During this period of off and on extension to his boxing career, Donny managed Dale "Cowboy" Brown of Canada to #6 in the world and NABF Champion. Donny sold his contract to protect the Limited Partnership investors when he saw a space where the risks were high for Dale to take it to the next level which turned out to be accurate. Dale went on to fight four defending or past champions where he put up a good fight but fell short each time. Donny then provided his consulting services to the start-up Interbox Boxing Promotions in Montreal. The investors investment were protected, they were repaid, received the interest and profit proposed in the investment agreement and financially the project was a success.
Due to refocusing his life on Real Estate development and limited boxing ventures as well as raising his two children with wife of 23 years Christi out of Costa Rica, Donny has been out of the boxing industry for the better part of the last 14 years.
Between the ups and downs of real estate cycles and his undying passion for the sport Donny is now refocused on bringing what he learned of Holistic medicine as well as Boxing to the mainstream public.
Besides his focus on building a Major Boxing presence in Group One, Donny is in the process of writing his Autobiography while overseeing a documentary about the health benefits of Natural Medicine and Boxing related post contact sports injuries. From these projects he will produce a TV series [under and through GO Sports & Entertainment] and share the natural health means of which contact sports athletes can regain a quality of life suitable for a champion to be able to better enjoy their post life careers.
Taking Kare of Our Own (TKOO) is the structure Donny will use to raise this awareness. GO Sports and Entertainment will be instrumental in assisting Donny in this initiative. The Mission statement for TKOO is: To enrich lives by providing life and health enhancing possibilities to contact sports professionals, and through them, the world.
With GO Sports and Entertainment behind him and the primary focus streamlined to help build the Sports division of the company, reaching new heights will be common due course for this man on the move reaching for his next success in the field of his most intense passions.