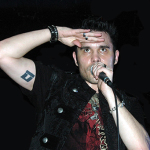 Chris Taylor Brown in the lead singer and principal songwriter for the American rock band Trapt as well as the CEO of American Record Label – Crash Collide.
Four studio albums have been released to date: Trapt (2003), Someone in control (2005), Only through the Pain(2008) and No Apologies (2010), with a cumulative total of almost 3 million records sold throughout the world. All Four albums were co-produced by Chris and TRAPT with such notable producers as GGGarth Richardson (Rage against the Machine, Mudvayne), Don Gilmore (Linkin Park, Avril  Lavigne) and Johnny K (Disturbed, Finger 11).
In 2003 "Headstrong" was the band's first single to reach #1 on both the modern rock tracks and mainstream rock charts, as well as #3 on the CHR/Pop chart and #16 on the Billboard Hot 100.
The second single from the album, "Still Frame," also managed to achieve the #1 spot on the US Mainstream Rock chart, and a respectable #3 on the Modern Rock Tracks chart. The third single, "echo" (whose video had an appearance from actress Michelle Trachtenburg) peaked at #10 on the Modern Rock Tracks chart.
Their debut album was certified platinum by the RIAA in January of 2004. The songs "Stand up" (Someone in Control), "Who's going home with you tonight" (Only through the Pain) and "Sound Off"(No Apologies) garnered Chris three more top 10 rock hits over his career.
TRAPT's latest album was released by the band's own label Crash Collide and is there 5th album to chart on the billboard top 50, with the singles "Bring It"  and "Love Hate Relationship" hitting the top 20 in Mainstream Rock.
Chris attended University of California at Santa Barbara and  studied mechanical engineering for 2 years before leaving to Los Angeles to sign with Warner Bros. records. Throughout his career, Chris produced the debut album for the indie rock band "Aphasia." He also discovered and signed Universal Motown pop artist "Damato" to his production company 'Everything Entertainment, as well as having co-written songs for Damato's debut album.
He has also co written rock tracks for numerous indie rock bands and Christian rock bands. Chris is also a writer for Film and T.V. and has had numerous placements in movies such as "The Punisher," "Tears of the Sun," and "Never Back Down," as well as television shows like Bravo's "Millionaire Matchmaker," Vh1's "What Chilli Wants," MTV's  "Jersey Shore," and ABC's "The Bachelor" just to name a few.