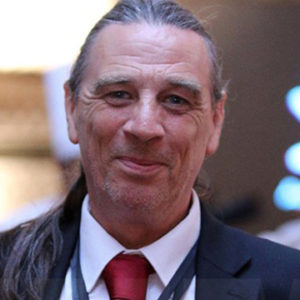 Gianluca Di Caro – Chairman
A former Musician, Record Label owner, Advertising Agency Creative Director and Professional Motor Racing driver and team owner, Gianluca is best known these days within the sport of professional boxing, albeit still retains an active interest in the Music industry.
In June 1988, following his retirement for Professional Motor Racing, Gianluca and novelist Cheryl Mildenhall founded an Advertising partnership in Leicestershire. Cheryl as Managing Director/Copywriter and Gianluca as Creative Director – art and design.
Initially the client base was drawn from local small businesses, but soon they acquired multi-national clients such as GEC Alsthom, Couture, HP Sauces, Trunature etc as well as multi lingual European projects for the British Government, both pre and post 1992, including projects for the duration of the UK European Community Presidency.
In 1990 CMES joined forces with Hellmann & Hunke GmbH to become one of the founding partners of B.E.S.T. In Europe and create the first pan-European Advertising and PR agency group.
In 1996 Gianluca began working with an upcoming singer/song writer, Lauren Mayer-Rothschild, initially creating a small music marketing company to assist in the promotion of Lauren's career, however this soon developed into a integrated music group, which included artist management and promotion – Intelligent Music Solutions, two record labels – Roadkill Records (Rock) and Kriminal Records (R&B/Soul/Dance), event promotion company – Hyperactive Promotions, two London based recording studios and an on-line music magazine – Rock Monster.
In 2007 Gianluca relocated to Philadelphia, USA, where he formed music and entertainment PR agency JustListen2This, which he still runs today, although now JL2T has been developed to also encompass clients from the sporting arena, especially those from professional boxing.
It was around this time that his career within the Boxing world began, at the invitation of legendary Heavyweight Champion of the World Smokin' Joe Frazier, Gianluca went on to market World stars such as two time Cruiserweight Champion of the World Steve 'USS' Cunningham as well as major Championship boxing events in the USA before returning to London, England in 2009.
1n 2009, on his return to the UK Gianluca's first task was the marketing of former Inter-Continental Cruiserweight Champion Bruce 'Lionheart' Scott for his appearance in the hugely popular Matchroom Sport 'Prizefighter' series.
Further boxer marketing projects followed, before in 2010 Gianluca partnered with one of the UK's top coaches and manager Johnny Eames at the TRAD TKO Boxing Gym in Canning Town, London, where he marketed the famous East End fight factory's 45 strong stable of boxers.
In 2011, at the request of the European Boxing Union (EBU) Gianluca co-founded the Malta Boxing Commission, the official professional boxing governing organisation for the Islands of Malta in the Mediterranean.
In October 2011 Gianluca was invited to become the Marketing Director for the World Boxing Federation, a role that see him actively involved not just in the marketing of the organization but also the promotion of Championship boxers once again.
In June 2013 Gianluca left the WBF in order to take up the role of Marketing Director for boxing promotional company Acourtier Events, a United Kingdom based boxing promotions organisation, dedicated to creating quality Championship boxing events as well as the development of future stars.
In October 2013 Gianluca returned to the Championship sanctioning realm, by joining forces with World Boxing Union (WBU) President Don Lewis to create WBU-Europe, with the express purpose of enhancing the presence of WBU World Championship Boxing within Europe, as well as the development of the WBU European Championship.
In 2014, in order to compliment both the Malta Boxing Commission's National Championship and the established World Boxing Union Championship, Gianluca was instrumental in the creation of the MBC International Championship, to offer upcoming young boxers their first opportunity to campaign for an International Championship accolade.
In 2016 Gianluca resigned from his executive roles at the WBU and MBC to focus on the development of Professional Boxing Governing Organisation the British & Irish Boxing Authority (BIBA).
Tel: (UK) +44 (0)7789 364702