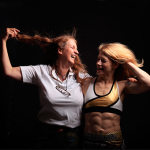 Clare holds BA Hons Degree Graphic and Business of Design and is a Guinness World Record holder.
Over the period of 7 years Clare has created 5 very ambitious cultural heritage and unique art events.
The most recent one commissioned by the newly elected Lord Mayor of London. Each event required enormous ingenuity to overcome difficult problems. A comprehensive knowledge of all aspects to make a project come to fruition with style, competence and mass public and media interest. For example from creating the theme of each event, researching material, branding and marketing, website and comprehensive social media and ITV & BBC News coverage, public engagement, schools workshops, student and volunteer skills opportunities and mentoring, through to fundraising (requiring bespoke reports and presentations).
The appeal of each event meant a variety of organisations and contacts had to be approached building important relationships for the projects' success and awareness.
Each project it was extremely important to create a reputation of competent delivery on time and with only limited sponsorship it was necessary to maintain a very tight control on expenditure
Clare Newton Achievements
2013 The Lord Mayor's Show
Last year was particulary exciting as we are celebrating the 2nd Female Lord Mayor in nearly 900 years! Over a period of six months Clare and her team have worked tirelessly on creating the River of Power parade. Building into it, a great deal of depth to benefit many different people and children. To give you some idea – Clare designed and created a dynamic and highly unique parade called the River of Power, crafting the HydroPower Serpent, developing the inspiring costumes and props to swirl and whirl around the streets of London Clare has expanded the parade to include the creation of the NewsPower Team – for secondary students to experience reporting and documenting, teaching them about filming and photography, and A Hat competition for 40 primary children.
2013 Emperors for Tea at the Savoy
One of Clare's passions is the Edinburgh Festival – a world centre of creative performing arts. Having visited the festival for over 8 years (seeing an average of 9 shows a day) has influenced Clare to craft The Emperors for Tea. A piece of work aimed to harness the forgotten beauty of language, with its rich expression and inversive meanings, particularly used in poetry. The work is based on a narrative explaining an event, which occurred to an ancient Emperor. The story is infused with music and dance interjected with historical foreign languages, enhancing the audiences' visual perception with sounds not an understanding. The spoken word had music specifically composed to enhance both the story and the delicate rhythms. The show held at the prestigious Savoy London, was a an overwhelming sell out – due to its unusual combination.
Double World Record Achievements
In 2012 Clare created the Worlds Longest Photograph ever exhibited, called Jump4London. The project was linked to the Cultural Olympics and became a charitable community project offering children, special needs adults, youths and students to also share in the achievement and learn from many different aspects of managing events. London & Partners, the capital's promotional organisation launched World Record London to celebrate its people, attractions, universities, businesses, sports and transport. Following this finale, London has officially beaten its target of 21 new world records in six months and become a world multi-record breaking city. Jump4London is number 19.
The project was solely organised and Created by Clare with the Photograph measuring 1 kilometer long by 2 metres high. It was display at ExCel London 1-19th June 2012: Involves organising 87 public photo shoots to engage thousands of people to participate. Clare was responsible for designing and developing a brand, the strap line, website, posters, the concept and technical hurdles. Engaging 400 UEL Students and provide opportunities for volunteers to learn about event management (and presented this collaboration to the City Corporation's Dragon Awards). Raising Sponsorship of nearly £1/2million in goods donated and Grants. Engaging Primary and secondary schools to create imaginative educational, days where they learnt how to make costumes, which they used to jump in. Due to the lack of external participation projects Jump engaged Special needs schools to create fun days giving them a huge sense of achievement.
2009 – 2010
VivaCity Festival  
ExCel London: Solely organised and created art & event: 400 meter SOLO Photographic display about the River Thames Combined with one day festival for 14 other talented musicians and playwrights (to raise their profiles). The Thames River Police, The "Explosive" Dogs Team and Local Sabre club provided public demonstrations all of which was presented to Mayor of Newham Sir Robin Wales. They were 5 School events for local schools and special needs centres to learn about art, photography and history from which the results are displayed as part of the show. Designed branding, curating and co-ordinating this enormous project. Mayor of Newham with the MD of ExCeL personally congratulated the artist.
2010
Riches Uncovered and the Sugar Tunnel at the Tate and Lyle Factory Combined art with learning about local heritage, giving 3 local primary schools history day at the factory and create art to be displayed on the Sugar Tunnel
2007-2009
Riches Uncovered and the Giant Sugar Tunnel. Debut Art Show at City Corporation's West Ham Park Newham: Solely organised and created art and event- 400 meter Solo photographic display about the hidden heritage of East London Presented it to the Lord Mayor of London Organised 24 Summer events for local schools and special needs centres workshops, teams of OAP's to research and discover local histories. 120,000 people visited the 3 month open air display