Month:
April 2015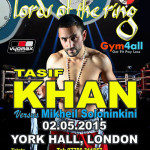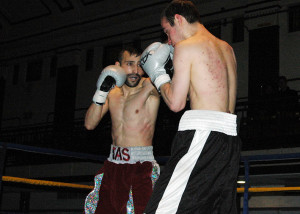 Khan-Soloninkini Battle For Title Supremacy In London This Saturday.
Bradford's exciting Bantamweight prospect TASIF KHAN is set to challenge for his first title this Saturday, when he takes on Georgian #1 ranked MIKHEIL SOLONINKINI, for the vacant International Masters Silver Bantamweight Championship, on the Mark Lyons and Billy James-Elliott promoted LORDS OF THE RING event at the iconic York Hall, in Bethnal Green, London on May 2nd.
Khan earned the title shot with a pair of sensational first round stoppage wins earlier this year, following his return from a two year sabbatical from the sport.
In January this year, Khan dispatched Hungarian #2 ranked Richard Voros in just one minute and five seconds of the first round at the York Hall, then two months later followed up with an almost identical stoppage victory, this time in one minute and fifteen seconds of the first round, over the Czech Republic's Ladislav Miko at the Grand Central Hall in Liverpool.
Originally Khan was to face Patrik Bartos, however the Czech lad was TKO'd by Andrew Cain, on the undercard of Derry Mathews WBA title fight, at the Echo Arena, a couple of weeks ago.
Bartos' replacement, Mikheil Soloninkini, has been quite a regular figure on the UK scene, having fought here four times in the past year, including an unsuccessful challenge for the International Masters Bronze title, which he lost out on points to Jamie Williams back in March.
Speaking from his home earlier, Khan appeared unperturbed with the late change of opponent
"It's a shame, I had been preparing for Patrik Bartos, but what can I say he got stopped and has a twenty eight day suspension, these things happen.
I would have preferred if we'd known earlier who was going to replace Patrik, but three potential opponents backed out last week and then a fourth that had been proposed got knocked back by the MBC as not suitable.
Luckily though this new lad agreed terms on Tuesday and now the fight is set and ready to go, I can't wait.
I'm not expecting it to be a quick finish like the past two fights, they were four and six rounders, this time I'll have to pace myself just incase I have to go the full ten rounds, but if the chance comes, I'll take him out early.
Trainings been great, always is, I'm ready and raring to go, can't wait.
My fans are great so far this year they've come out in force to support me in London and Liverpool and Saturday they'll be back in London again, I can't thank them enough, they're a great bunch that really get behind me, making plenty of noise, letting me know that they're there, they're really are brilliant and I'll thank them the best way I know, winning the title.
I'd like to say a big thank you to my sponsors, Kingsland Business Recovery in Bradford, Broadway Solicitors in Oldham, Kesser Jewelers in Bradford and Vyomax Supplements from Manchester, they've been brilliant getting behind me so I can concentrate on my boxing.
Finally I have just been told that Mark and Billy (Promoters Mark Lyons and Billy James-Elliott) have arranged a function room so that everyone can watch the Mayweather-Pacquiao fight live after my fight, so if you haven't got tickets yet, you know what to do, either call me or get down to York Hall on Saturday as there are still some tickets available. "
Tasif Khan versus Mikheil Soloninkini, for the vacant International Masters Bantamweight Championship, co-headlines the Mark Lyons & Billy James-Elliott Wise Guys Promotions LORDS OF THE RING event, that takes place at the York Hall in Bethnal Green, London on Saturday 2nd May 2015.
Sanctioning for this event will be provided courtesy of the Malta Boxing Commission (MBC) – www.maltaboxingcommission.com
Tickets priced £35 (Standard seating) and £65 (Ringside) are available direct from Tasif on 07756 311857, or at the venue on the night or pre-book on-line at www.tkoboxoffice.com or call the TKO ticket line on 07960 850645
Tickets for the after event private viewing of the Mayweather-Pacquiao super fight live via satellite, that cost just £10, will be available for purchase at York Hall on the Saturday night.