Month:
July 2015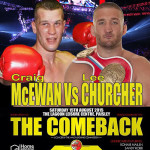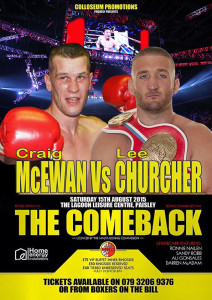 Churcher Prepared For War Against McEwan On August 15th.
A mouth watering domestic clash, between Newport's Lee Churcher and Edinburgh's Craig McEwan, is set to feature on the undercard of the upcoming Thomas Melville's Colloseum Promotions THE COMEBACK event at the Lagoon Leisure Centre in Paisley, Scotland on Saturday 15th August 2015, which is headlined by the Craig Docherty-Michael Kelly WBU World Super Welterweight Championship showdown.
Churcher (12-3-1), who secured the BBBofC Welsh area title with a ninth round stoppage victory over Barrie Jones in 2012, but never got to defend it before switching allegiance to the MBC, comes into the fight off a six win streak.
His opponent, McEwan (22-4-1) will be making his first home appearance since returning from America, where he fought amongst others World Champions Andy Lee and Peter Quillin.
On paper the bout looks set to be a stormer as both protagonists are very much 'attack is the best form of defense' minded, so much so that a number of on-line pundits have mooted that this is likely to be an out and out toe-to-toe war, very much in a similar vain to those classic battles between Arturo Gatti and Mickey Ward back in 2002/3.
A train of thought that virtually mirrors Churcher's own, as was made clear when he spoke earlier.
"This is a massive fight for me, I'm really looking forward to fighting him, he's tough and a big puncher, much like me really.
These are the type of fights real fighters want, challenging to put it mildly, fights like this are made for the big occasion and they don't get much bigger than this, well in Scotland that's for sure, there's the Craig Docherty-Michael Kelly title fight headlining and Scott Harrison will be making his return on the show too.
That said, I think it will be our fight the fans will talk about most, especially afterwards, It's going to be a war in there.
Yeah he's been in with some good names, but that doesn't worry me, it's not an option for me, I can't lose, it's as simple as that.
I'm going to take the fight to him, have to really, his right hand delivers a devastating blow, so mustn't give him the room to use it, I've got to get in there and give it to him first.
I'm not worried about the occasion or that it's on his home turf, OK so I'm likely to receive a hostile reception, but that's fine with me.
Saying that there are some fans coming up to support me, obviously it's a long trip for my fans, it's a massive journey for them, I appreciate that and can't thank them enough for traveling all that way to Scotland to watch me fight."
Lee Churcher vs Craig McEwan features on the undercard of the Craig Docherty-Michael Kelly World Boxing Union (WBU) Super Welterweight World Championship bout that headlines the Thomas Melville's Colloseum Promotions THE COMEBACK event at the Lagoon Leisure Centre in Paisley, Scotland on Saturday 15th August 2015.
Sanctioning for this event is courtesy of the Malta Boxing Commission (MBC) www.maltaboxingcommission.com
Tickets, priced £40, £50 and £75 (VIP) are available from any of the boxers taking part or call 07932 069376 and are also available on-line at www.tkoboxoffice.com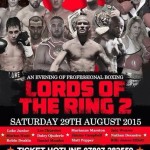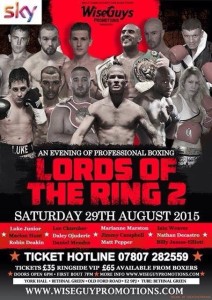 Lyons & James-Elliott Plan Huge Season Opener At York Hall 29th Aug.
Mark Lyons and Billy James-Elliott are really pulling out all the stops in preparation for their and the Capital City's new season opener event, LORDS OF THE RING II, at York Hall in Bethnal Green, London on Saturday 29th August.
With eighteen bouts already on the card, LORDS OF THE RINGS II is looking set to be the biggest pro boxing event in the Capital this year.
Heading up the massive card is reigning World Boxing Federation (WBF) Welterweight World Champion Chris Goodwin, who will be facing a yet to be announced opponent.
A two division World Champion, Goodwin (19-2-1) was the first British boxer to secure a World lightweight crown in almost twenty years, when he beat Istvan Kiss for the World Boxing Foundation Lightweight title back August 2012.
He then went on to secure the WBF Intercontinental crown in April 2014 before adding the WBF World Welterweight crown, with a split point win over Mikheil Avakyan at the Northgate Arena in Chester just four months later.
Main support sees Woolwich, London's British #1 ranked and reigning MBC International Super Bantamweight Champion, Marianne 'Golden Girl' Marston, in a non-championship bout ahead of her upcoming World title challenge.
Marston, who was discovered and coached by legendary Heavyweight Champion of the World Smokin' Joe Frazier and two time Cruiserweight Champion of the World Steve 'USS' Cunningham, also became the #1 pound-for-pound ranked British female, following her sensational shut out points victory over then Hungarian #1, European #3 and World #31 ranked Marianna Gulyas to secure the MBC International crown in October 2014.
This win sent Marston soring up the rankings, from #58 in the World to #24 and in contention to muster a challenge for a World accolade.
Heading up the support card sees London's Jimmy Campbell (11-8-0) making his UK debut, as throughout his career Campbell had competed exclusively in America until now.
During his career Campbell has been in with some of the sports biggest names, such as WBC World Champion Anthony Dirrell and WBA World Champion Virgil Hill.
On August 29th Campbell faces Scunthorpe's Jody 'The Entertainer' Meikle, whilst Meikle is not quite on the same level as Dirrell and Hill you can be sure that Campbell will get one of the toughest tests when he goes toe-to-toe with 'The Entertainer'.
Welsh and British Masters Champion Lee 'Lights Out' Churcher will also be in action, unfortunately not in the planned MBC International title fight with George Hillyard, but in a non-championship six rounder against a yet to be named opponent.
Whilst on the subject of Champions – 13 time, unified World KI Rules, Full Contact Kick Boxing and Muay Thai Champion Marlon Hunt will be making his much anticipated professional Boxing debut, against Scunthorpe's Matthew Pepper.
The Lords of the Ring event also features another Globe trotting British fighter, the sensational Iain 'The Blessed One' Weaver (5-1-0), who will be making a rare appearance on a British event.
Last time out. In Parsippany, New Jersey, was the victim of a little bit of 'home cooking' to the score cards – after dominating his opponent, Newark, New Jersey's Wanzell Ellison, from start to finish, Weaver was shocked to end up on the losing side of a highly contentious split decision – so you can be sure that former Team GB star Weaver will be wanting to make a big statement and get another big win on his record.
Bardsley, Lincolnshire's unbeaten Middleweight prospect Nathan 'Nightmare' Decastro (4-0-0) will also be in action, as will Kensington's unbeaten Super Middleweight prospect Daley Ojuederie (3-0-1), both against yet to be announced opponents.
This event also features the long awaited return to the fray of 'Rockin' Robin Deakin, following a fifteen-month sabbatical from the sport.
Finally, making their professional debuts on August 29th are a number of top amateurs, including Doncaster's sensational Tom Bell (Bantamweight), Sheffield's Luke Junior (Welterweight), Newcastle's Jak Johnson (Super Featherweight), Hertfordshire's Daniel Mendes (Cruiserweight), Junior Walker (Super Welterweight), Johannes Umelo (Heavyweight), Mo Holloway, Malta's Kerstin Brown (Bantamweight) and Billy Elliott (Welterweight).
The Mark Lyons and Billy James-Elliott Wise Guys promotions LORDS OF THE RING II event will take place at York Hall, Bethnal Green, London on Saturday 29th August 2015.
This event is sanctioned courtesy of the Malta Boxing Commission (MBC) www.maltaboxingcommission.com
Tickets, priced £35 (standard seated) and £65 (Ringside) are available from any of the boxers taking part, on-line at www.tkoboxoffice.com and www.wiseguypromotions.com or call 07960 850645 or 07807 282559.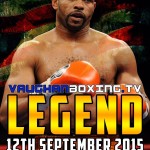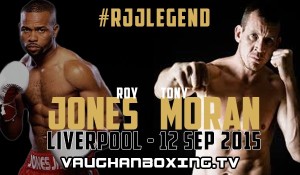 Roy Jones Jr. Vs Tony Moran Press Conference Set for Wednesday 22nd July.
Promoter Stephen Vaughan Jr. today announced that the press conference for the Roy Jones Jr. versus Tony Moran Championship bout, that takes place at the Aintree Equestrian Centre, in Liverpool on Saturday 12th September, will take place at the Bierkeller, 6 Thomas Steers Way, Liverpool L1 8LW at 1:30pm on Wednesday 22nd July.
On making the announcement, Mr. Vaughan, said. "It's a real honour to be having the legendary Roy Jones Jr. come over and fight in England for the first time, even better that we have him fighting right here in Liverpool on one of our shows, against one of our own local lads, Tony Moran, on the 12th September.
But before we get to see the Legend himself in action, first we have the press conference, which will take place at the Bierkeller in Liverpool One.
Besides Roy and Tony we'll also have all the lads from the home side of the card and a few of their opponents in attendance too.
This will be an open Press Conference so everyone is welcome to come along."
PRESS CONFERENCE
Time & Date: 1:30pm on Wednesday 22nd July 2015
Location: Bierkeller, 6 Thomas Steers Way, Liverpool L1 8LW
In Attendance:
Roy Jones Jr. versus Tony Moran
MBC International Cruiserweight Championship
Paul Economides (17-5-0) versus Prosper Ankrah (24-5-0)
World Boxing Federation Intercontinental Super Bantamweight Championship
Tasif Khan (10-1-2) versus Isaac Quaye (27-11-1)
World Boxing Federation International Super Flyweight Championship
WBU Junior World Super Bantamweight Champion Stevie Quinn Jr. (7-2-0) (Opponent TBA)
Unbeaten Lightweight Prospect Antonio Counihan (7-0-0) (Opponent TBA)
Unbeaten Featherweight Prospects Jay Carney (2-0-0) versus Mathew Fitzsimons (1-0-0)
Unbeaten Featherweight Prospect David Agadzhanyan (5-0-0) (Opponent TBA)
Unbeaten Heavyweight Prospect Rob Beech (5-0-0) (Opponent TBA)
Middleweight: Nick Quigley (13-2-0) versus Nathan Decastro (4-0-0)
Light Heavyweight: Lee Boyce (2-1-0) versus Matthew Pepper (1-9-0)
Welterweight: Dayle Gallagher (1-0-0) versus Matt Scriven (14-89-1)
Plus debuting boxers: Bantamweight; Tom Bell, Light Heavyweight; Liam Milner and Welterweight; Lee Monaghan
Tickets, priced £40, £60, £100 and VIP Ringside £150 for the Stephen Vaughan Promoted Roy Jones Jr. versus Tony Moran MBC International Cruiserweight Championship headed LEGEND event at the Aintree Equestrian Centre in Liverpool on Saturday September 12th 2015 are available now, call 0333 200 0905 or buy on line at www.tkoboxoffice.com and www.vaughanboxing.tv
Sanctioning for this event will be courtesy of the Malta Boxing Commission – www.maltaboxingcommission.com