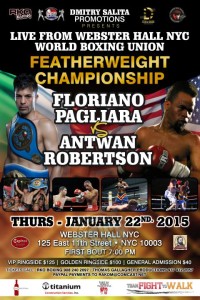 Pagliara-Robertson WBU Americas Title Fight In NYC This Coming Thursday – 22nd Jan.
World Boxing Union (WBU) President Don Lewis today announced that Floriano Pagliara will challenge Antwan Robertson for the WBU Americas Featherweight Title, on the Dmitry Salita promoted Brooklyn Brawl event at the Webster Hall in Manhattan this coming Thursday, the 22nd January.
Marbach Germany born Italian Pagliara, a former IBF Mediterranean and Italian National Champion at Super Featherweight, relocated to America and now resides in Williamsburgh, Brooklyn.
Pagliara's first Championship challenge, in September 2010 against New York's Brian Millar for the WBF All Americas title ended as a majority draw, some ten months later the plucky Italian finally secured his first Championship accolade, when he conclusively beat Hungary's Istvan Nagy for the IBF Mediterranean title.
It would be two years before Pagliara was back in Championship action, when he challenged Andrea Scarpa for the Italian Super Featherweight crown, however all didn't go to plan, with Pagliara being stopped in the second round.
Six months later the Italian battler challenged Nicola Cipolletta for the newly vacant Italian title, this time Pagliara secured the title by unanimous points decision.
Pagliara went on to successfully defend the Italian title Angelo Ardito, by conclusive 98-92, 97-92, 96-93 points margin, however shortly after the verdict was overturned by the Italian Federation, disqualifying Pagliara and handing the laurels to Ardito by default.
In comparison Minnesota's Robertson has only tasted Championship action once previously, when he unsuccessfully challenged Jonathan Perez for the Minnesota State Bantamweight title.
On confirming the title fight WBU President Don Lewis said.
"Dmitry (Salita)and his Star of David promotions team always puts on great events, with Floriano Pagliara taking on Antwan Robertson for the WBU Americas title headlining, this one looks set to be one of the best yet.
Floriano has a huge following in New York, he's an exciting fighter that the fans love to watch, so should be a packed house too.
Don't know too much about Antwan but have heard good things about him too, some say he's a little like Junior Jones, if he is then this could well be an out and out war.
I wish both boxers the best for Thursday and may the best man win."