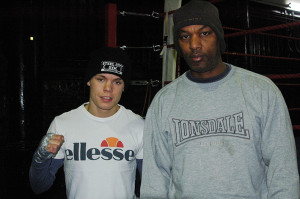 Former Team GB Star Edwards Primed For Explosive Pro Debut This Saturday.
In just a few days time former Team GB amateur star Charlie Edwards is set to make his much anticipated transition to the professional ranks, when he faces Bentley, Yorkshire's Craig Derbyshire on the Eddie Hearn, Matchroom Sport promoted CAPITAL PUNISHMENT event, at the O2 this coming Saturday, the 31st January.
Back in October, the former European Bronze Medallist announced his intention to move to the pro ranks. After a few weeks of discussions with his team and various promoters Charlie eventually made the decision to sign with Eddie Hearn's Matchroom Sport organisation, a very savvy move indeed as not only are they the UK's #1 promotional outfit, but more importantly all their events are broadcast live on Sky Sports, therefore ensuring excellent exposure for seriously talented multi-ABA Champion.
Charlie's transition to the pro ranks has probably been a little smoother than for most young amateur stars these days, mainly because for the past year or so Charlie, as well as his younger brother Sunny, have been travelling to the famous TKO Gym in East London, the home to many of the UK's top professional stars, both past and present, to be coached by Brian O'Shaughnessy.
As such the youngster enjoyed the best of both worlds, as Brian was a highly respected amateur coach, with a history of developing amateur champions, before applying for his pro license. Another bonus for Charlie being based at the TKO was the regular full on sparring sessions with many of the top prospects based there.
Following one of these sparring sessions, with Champions TKO gym mate Michael O'Rourke, both Charlie and Brian took some time out to speak about the youngsters upcoming professional debut, first up Charlie.
"I'm feeling great, my training's gone really well and I'm in the best shape of my career so far.
I've been preparing at the Champions TKO with Brian (O'Shaughnessy) and my dad, I've got a strength and conditioning coach now, covering all angles to make sure I'm totally ready for my pro debut.
The hard work is really paying off, great shape, weight's perfect, it's been perfect for the past two or three weeks, so I am definitely in the best shape of my life and just can't wait to get in there and prove that all the hype about me, because I know there's a lot of hype about me and I have got a bit of pressure on my shoulders, with people expecting me to perform, so I'm going to go out there and box clever and make sure I perform.
I done virtually everything you can as an amateur, Olympic qualifiers, Commonwealth Games and I won seven National titles, ABA titles and GB titles, European Bronze medallist, European Gold medallist as a schoolboy, so have won a lot of titles.
I've had a look at my opponent, he's on YouTube, he's had two fights and lost two, he's from Leeds or somewhere up in Yorkshire (sic – Bentley, Yorkshire) and his name is Craig Derbyshire.
He's done cage fighting, he's done a lot of Kick Boxing and that, he comes from a fighting background.
I know what he's going to do, he's going to come fighting right from the opening bell. The only thing is he comes flying in with his head so I've got to be clever and stay out of the way f his head and he'll be there to be hit, I don't need go looking, he's going to come to me and I'm going to make him pay, that's the way it's going to go.
It's another day at the office, I know it's pro and everyone says it's a big step up and it's a different game, I've been winning titles without a headguard for about a year and half now, so it's no biggy to me, it means I take my top off, which is better, I know when I take my top off in training I feel great, so yeah no big deal for me, I'm raring to go, I've fought in front of twenty thousand people up in Scotland, against a home fighter, so that's the biggest thing I'm going to experience with everyone against me and on my back, so for me I get that extra buzz boxing in front of a big crowd, you can't get batter.
I'm expecting nothing else, but victory all the way, like I said he's going to come to fight, I'm not looking for no stoppage or anything, but I know in the way I am hitting, if he walks on to one, especially how open he is, I'm going to hurt him, so it may not go the distance.
I'm going in there prepared to go the distance, been doing a lot of sparring, eight threes, six threes, I mean I've just been sparring Mickey O'Rourke and he's a sixty four kilo fighter and I'm not going to have anyone up against me like him, so I'm prepared a hundred percent, I'm leaving no stone unturned and really want to get in there and do the business.
I want to say thanks for all the support, it means so much when I put up stuff on Facebook and Twitter and get so much positive messages from so many people wishing me luck, I do that to show them I've been training, what I'm putting myself through so I can be successful, everyone is reacting so positively and showing that they are supporting me, I'm really grateful and going to really put a show on for every single one of my supporters."
Then it was the turn of Charlie's coach, the affable Brian O'Shaughnessy to talk about his young charge.
"Yeah, the 31st, not long to go now, just a few days.
It's all looking good, Charlie's been working hard, his transitioning himself for the pro ranks and it's going really well.
Charlie first came to work with me at the TKO about a year ago, he says he'd been wanting to work with me for a few years, he'd seen me on the amateur circuit and liked the way I worked, so we got together last year and it's all good.
I first see him when he was just a kid, you could see then he was going to be something special, so I was really pleased when he asked if I could start working with him.
Personally, I don't see anyone in his weight division in this country, or Europe come to that, that would bother him, there's not a lot of fighters in his category anyway and even the best ones we had seen as they progressed from the amateurs and they're not a patch on Charlie.
The person he's got on the 31st is a seasoned amateur, as well as has a Kick Boxing background, so we've always got to expect the unexpected, but we're ready for that anyway, so expect a good, tidy win from Charlie."