Tag:
Isaac Quaye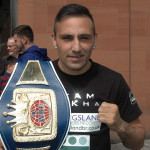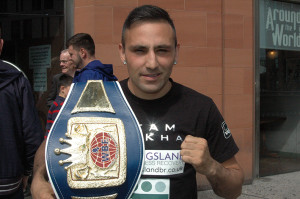 Khan-Quaye Title Fight Support For Roy Jones Jr-Tony Moran September 12th in Liverpool
Bradford's Tasif Khan is just over a week away from the biggest fight of his career to date, when he faces two time Commonwealth title challenger, Ghana's Isaac Quaye, for the World Boxing Federation (WBF) International Super Flyweight Championship, on the Stephen Vaughan promoted LEGEND event, at the Aintree Equestrian Centre on Saturday 12th September, which is headlined by Roy Jones Jr's first ever UK fight, against Tony Moran.

Khan, who only returned to the fray, following a twenty five month sabbatical from the sport, in January this year more than made up for his time out of the ring with three top class wins.
In the first of these bouts Khan disposed of Richard Voros in just over a minute of the first round, he then followed that with an almost identical time victory over Ladislav Miko in March, which lined him up for a shot at the International Masters title in May, against Mikheil Soloninkini, which Khan secured with an excellent unanimous points victory.
To describe Khan's excitement about getting this opportunity to fight for the WBF title so soon after his return is an understatement, but when compared to his feelings about fighting for the title on the undercard of Roy Jones Jr versus Tony Moran made that pale in comparison, as he made clear when he spoke about the upcoming event.
"When I first got told I'll be fighting on the Roy Jones bill, it was absolutely amazing, yeah amazing to fighting on the same show as Roy Jones.
I grew up watching him fight, in my eyes he's one of the greatest fighters ever, not because of the accolade of titles that he's won, the number of belts he's won, from Middleweight upwards, but it's unheard of to say to anyone these days that a middleweight is going to go all the way up to Heavyweight and win a World title and in those days the best fought the best, Roy Jones for me is one of the all time best fighters and to be on the same bill as him is all credit to the MBC (Malta Boxing Commission), Stephen Vaughan and Francis warren and I can't thank them and everyone involved in this massive event enough and obviously for letting me fight on the event."
Khan then went on talk about his opponent on September 12th – Isaac Quaye
"I've got full respect for Isaac Quaye, he's got a good record, he's been in with the best and he's a tough Ghanaian as we know, so come September 12th we will be ready for him.
I can't believe this, it's been a short journey, but a sweet journey, the only difficult time I've had was the time away from the ring, I had a gap of about three years but obviously the MBC, all those involved with the MBC and the team around me have pulled together and gave me these opportunities.
My last fight gave me the opportunity to get my first belt (International Masters) of my career, so onwards and upwards.
I don't look past any opponent and always train accordingly, we know Isaac Quaye is a tough opponent and in terms of World ranking he's a lot higher than me, so it's a win, win situation for me because I'll prepare, like every fight, as if I'm the underdog, no doubt he'll be coming in as the favourite and look to upset me and the crowd.
I have full respect for him outside the ring, but inside the ring I have no mercy for anyone, I want to go in their and cause damage as I want to win, so let's get it on."
Tickets, priced £40, £60, £100 and VIP Ringside £150 for the Stephen Vaughan Promoted Roy Jones Jr. versus Tony Moran MBC International Cruiserweight Championship headed LEGEND event at the Aintree Equestrian Centre in Liverpool on Saturday September 12th 2015 are available now, buy on line at www.tkoboxoffice.com and www.vaughanboxing.tv or call 0333 200 0905.
Sanctioning for this event will be courtesy of the Malta Boxing Commission – www.maltaboxingcommission.com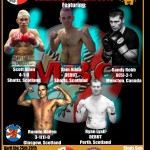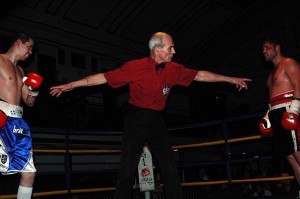 Legendary Referee Mickey Vann To Officiate MBC's Inaugural Scottish Event This Saturday
Legendary globe trotting Championship referee Mickey Vann will be making one of his shortest international journeys in a long while, this coming weekend, when he officiates the first Malta Boxing Commission (MBC) sanctioned event in Scotland, the Stewart Allan promoted event at the Rivals Gym in Wishaw on Saturday 25th April 2015.
Vann, who has been the MBC's chief referee since 2013, has been officiating for close to forty years, the first bout he refereed was Eddie Smith versus Joe Jackson at the Anglo American Sporting Club in Manchester on the 11th October 1976.
It would be some seven years later before Vann refereed his first domestic Championship bout, the BBBofC Central Area Featherweight Title fight between Steve Pollard and Steve Farnsworth at the Tiffany's Nightclub in Hull on the 29th March 1983.
Three years later Vann refereed his first International Championship contest, the Commonwealth Lightweight Title fight between Zimbabwe's Langton Tinago and Australia's Graeme Brooke at the Granada Studios in Manchester on 23rd August 1986.
With numerous British, Commonwealth and European title contests under his belt on the 8th June 1990 Vann refereed his first World Championship bout, the WBC World Minimumweight title fight between Japan's Hideyuki Ohashi and Thailand's Napa Kiatwanchai in Tokyo, Japan.
To date Vann has refereed one hundred and forty three International, Inter-Continental and World title contests for the World Sanctioning Organisations, such as WBC, WBO, IBF, WBU etc as well as an even higher number of European, Commonwealth, British and Irish domestic title fights during his eight hundred and eighty two bout career to date.
The most recent of these bouts being the WBO Inter-Continental Cruiserweight title fight between Ukrainian Oleksandr Usyk and Russian Andry Knyazev, which took place in Kiev just last weekend.
In addition Vann has also judged one hundred and seventy three Championship contests since 1978, taking his officiating career total to an incredible one thousand and fifty five contests, sorry make that one thousand and fifty six contests if we include the upcoming event this weekend.
Shortly after returning from Kiev, the effervescent Vann spoke briefly about his career and the upcoming event he is to officiate in Scotland on Saturday.
"What can I say I didn't realise I'd refereed that many fights,
My most memorable fight would naturally be Lennox Lewis and Frank Bruno at Cardiff Arms Park, that was history.
But have refereed so many memorable fights, where do I start, Shea Neary and Mickey Ward, now that was a great fight.
There's some from years ago I can remember, like Jean-Marc Renard against Farid Benredjeb, oh what a war that was, they both ended up in hospital.
Another memorable fight was Cassius Boloyi against Phillip Ndou, It was a war, an absolute war
They were two South Africans but from different tribes, they wanted me to referee it, not a South African, which was very much appreciated.
I remember refereeing the WBC mandatory Lightweight title fight, between Leavander Johnson and Miguel Angel Gonzalez, in a bullring, which was an experience.
I refereed in America Jorge Paez and Angel Manfredy, that was a terrific fight, in fact refereed three or four times in America.
I think if you count them all I think I refereed in thirty nine different countries, I left school at seven and went back at thirteen and left again at fourteen and I didn't know at that time that there were that many countries in the world. I didn't, honestly.
I just enjoy what I do, you know I've been to Russia, Argentina, Japan, all over, I just got back from Kiev.
People come up for photographs, even in Kiev, with Mickey the dancer and then they pretend they are you moving about, it's lovely.
I pick out nothing really, I just pick out what has been the big fights that I've enjoyed.
I qualified as a star grade referee in 1978 and I'm still going, I'd done hundreds of fights by then, it's not a job really, it's just enjoyment as such.
I wasn't a very good pro fighter, I was a pretty good amateur, I had sixty six fights as an amateur and lost nineteen, but you used to have three fights a day in the Championships, you fought in the morning, won that you fought in the afternoon and if you won that you fought at night to get through to the next round, in the Army Championships and the boys clubs sort of thing, that's what we all did.
As a pro I have fourteen fights but I lost nine, but I enjoyed it, I'm glad I turned pro and I'm glad I fought, I'm glad I fought amateur and pro and I missed it when I retired and I wanted to do something and my manager suggested I referee, I wanted to coach but Tommy Miller, my manager said to me 'Jesus Mick what could you teach anyone', so he said to me you want to be a referee, so I put in for it and it took me two years and I qualified.
I've enjoyed every minute of it and some times have been better than others, in fact they used to hate me in Scotland, they thought I hated the Scots. I heard this on the radio many times.
Alex Morrison will tell you, he thought I was hater of Scotsmen, I wasn't, just they never seemed to get the verdict from me, so it's quite ironic that this Saturday it's the Scottish promoter and the Scottish boxers that asked for me for this show.
I've always had great fun there and my all time favourite fighter is a Scotsman, Ken Buchanan, so it's really nice that they want me to be there for the first MBC sanctioned event there, I can't wait."
Mickey Vann will be the referee for both the Sandy Robb versus Mathew Ellis and Scott Allan versus Isaac Quaye that co-headline the Stewart Allan (Rivals Promotions) event at the Rivals Gym in Wishaw, Scotland on Saturday 25th April 2015.
Tickets priced £30 and £40 are available direct from any of the boxers taking part, or call Stewart on 07711 725257.
Sanctioning for this event will be provided courtesy of the Malta Boxing Commission (MBC) – For further information on the Malta Boxing Commission please go to:
Web: www.maltaboxingcommission.com
Twitter @MaltaBoxingComm
Facebook www.facebook.com/MaltaBoxingCommission
LinkedIn www.linkedin.com/company/malta-boxing-commission
E.mail: admin@maltaboxingcommission.com