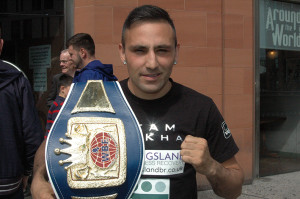 Khan-Quaye Title Fight Support For Roy Jones Jr-Tony Moran September 12th in Liverpool
Bradford's Tasif Khan is just over a week away from the biggest fight of his career to date, when he faces two time Commonwealth title challenger, Ghana's Isaac Quaye, for the World Boxing Federation (WBF) International Super Flyweight Championship, on the Stephen Vaughan promoted LEGEND event, at the Aintree Equestrian Centre on Saturday 12th September, which is headlined by Roy Jones Jr's first ever UK fight, against Tony Moran.

Khan, who only returned to the fray, following a twenty five month sabbatical from the sport, in January this year more than made up for his time out of the ring with three top class wins.
In the first of these bouts Khan disposed of Richard Voros in just over a minute of the first round, he then followed that with an almost identical time victory over Ladislav Miko in March, which lined him up for a shot at the International Masters title in May, against Mikheil Soloninkini, which Khan secured with an excellent unanimous points victory.
To describe Khan's excitement about getting this opportunity to fight for the WBF title so soon after his return is an understatement, but when compared to his feelings about fighting for the title on the undercard of Roy Jones Jr versus Tony Moran made that pale in comparison, as he made clear when he spoke about the upcoming event.
"When I first got told I'll be fighting on the Roy Jones bill, it was absolutely amazing, yeah amazing to fighting on the same show as Roy Jones.
I grew up watching him fight, in my eyes he's one of the greatest fighters ever, not because of the accolade of titles that he's won, the number of belts he's won, from Middleweight upwards, but it's unheard of to say to anyone these days that a middleweight is going to go all the way up to Heavyweight and win a World title and in those days the best fought the best, Roy Jones for me is one of the all time best fighters and to be on the same bill as him is all credit to the MBC (Malta Boxing Commission), Stephen Vaughan and Francis warren and I can't thank them and everyone involved in this massive event enough and obviously for letting me fight on the event."
Khan then went on talk about his opponent on September 12th – Isaac Quaye
"I've got full respect for Isaac Quaye, he's got a good record, he's been in with the best and he's a tough Ghanaian as we know, so come September 12th we will be ready for him.
I can't believe this, it's been a short journey, but a sweet journey, the only difficult time I've had was the time away from the ring, I had a gap of about three years but obviously the MBC, all those involved with the MBC and the team around me have pulled together and gave me these opportunities.
My last fight gave me the opportunity to get my first belt (International Masters) of my career, so onwards and upwards.
I don't look past any opponent and always train accordingly, we know Isaac Quaye is a tough opponent and in terms of World ranking he's a lot higher than me, so it's a win, win situation for me because I'll prepare, like every fight, as if I'm the underdog, no doubt he'll be coming in as the favourite and look to upset me and the crowd.
I have full respect for him outside the ring, but inside the ring I have no mercy for anyone, I want to go in their and cause damage as I want to win, so let's get it on."
Tickets, priced £40, £60, £100 and VIP Ringside £150 for the Stephen Vaughan Promoted Roy Jones Jr. versus Tony Moran MBC International Cruiserweight Championship headed LEGEND event at the Aintree Equestrian Centre in Liverpool on Saturday September 12th 2015 are available now, buy on line at www.tkoboxoffice.com and www.vaughanboxing.tv or call 0333 200 0905.
Sanctioning for this event will be courtesy of the Malta Boxing Commission – www.maltaboxingcommission.com