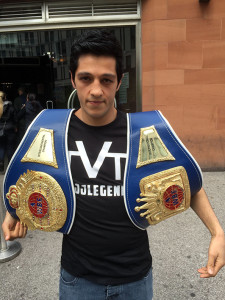 Economides Defends WBF Title Against Ankrah On Undercard Of Roy Jones Jr-Tony Moran on Sept 12th.
In just eight days time Chester's Paul Economides steps into the ring to undertake the first defense of his World Boxing Federation (WBF) Intercontinental Super Bantamweight crown, against Ghana's Prosper Ankrah, on the Stephen Vaughan promoted LEGEND event, at the Aintree Equestrian Centre on Saturday 12th September, which is headlined by Roy Jones Jr's first ever UK fight, against Tony Moran.

Economides, who sensationally stopped Hungary's David Kanalas in the second round back in August last year to secure the WBF Intercontinental title, is no stranger to Championship action, having previously secured the WBF International crown just four months previously as well as fought for the Welsh Area titles in two different weight divisions.
Ankrah, like Economides, is also an experienced Championship boxer, having secured both the Ghanaian Bantamweight and West African Boxing Union Bantamweight titles as well as challenged for both the Commonwealth and WBO International crowns.
Whilst the Ghanaian may be the clear bookies favourite, due to his superior record of 24 wins (15 by stoppage) and 5 losses, against Economides' 17 wins (4 by stoppage) and also having 5 losses on his record, a number of well known British pundits are bucking the trend, predicting that Economides will stop Ankrah.
The basis for this being that all four of Economides' stoppage wins have come over a period of twelve months and not one of his four opponents during that time survived past the second round and as if to add fuel to the fire of this argument, they point to the fact that Economides became the first to stop the highly durable two time Commonwealth title challenger Isaac Quaye.
Economides refused to be drawn into the speculation when he spoke about the upcoming fight.
"It's a massive stage this one, I'm so excited to be on this bill as chief support for the Roy Jones Jr and Tony Moran title fight.
Crazy but I kinda forgot about my own fight at first, I got a bit too excited about the Roy Jones fight.
Everything's good now and I'm fully focused on September 12th as I know I have a major task on my hands fighting Prosper Ankrah, he's tough, he can fight but no problems I'm more than ready for him.
The fight's just over a week away and I'm really looking forward to it, it's a big stage but that doesn't bother me at all.
It's going to be the event of the season so anyone who hasn't got their tickets yet, get them now before it's too late, this is going to be a very, very special night, can't wait."
Tickets, priced £40, £60, £100 and VIP Ringside £150 for the Stephen Vaughan Promoted Roy Jones Jr. versus Tony Moran MBC International Cruiserweight Championship headed LEGEND event at the Aintree Equestrian Centre in Liverpool on Saturday September 12th 2015 are available now, buy on line at www.tkoboxoffice.com and www.vaughanboxing.tv or call 0333 200 0905.
Sanctioning for this event will be courtesy of the Malta Boxing Commission – www.maltaboxingcommission.com